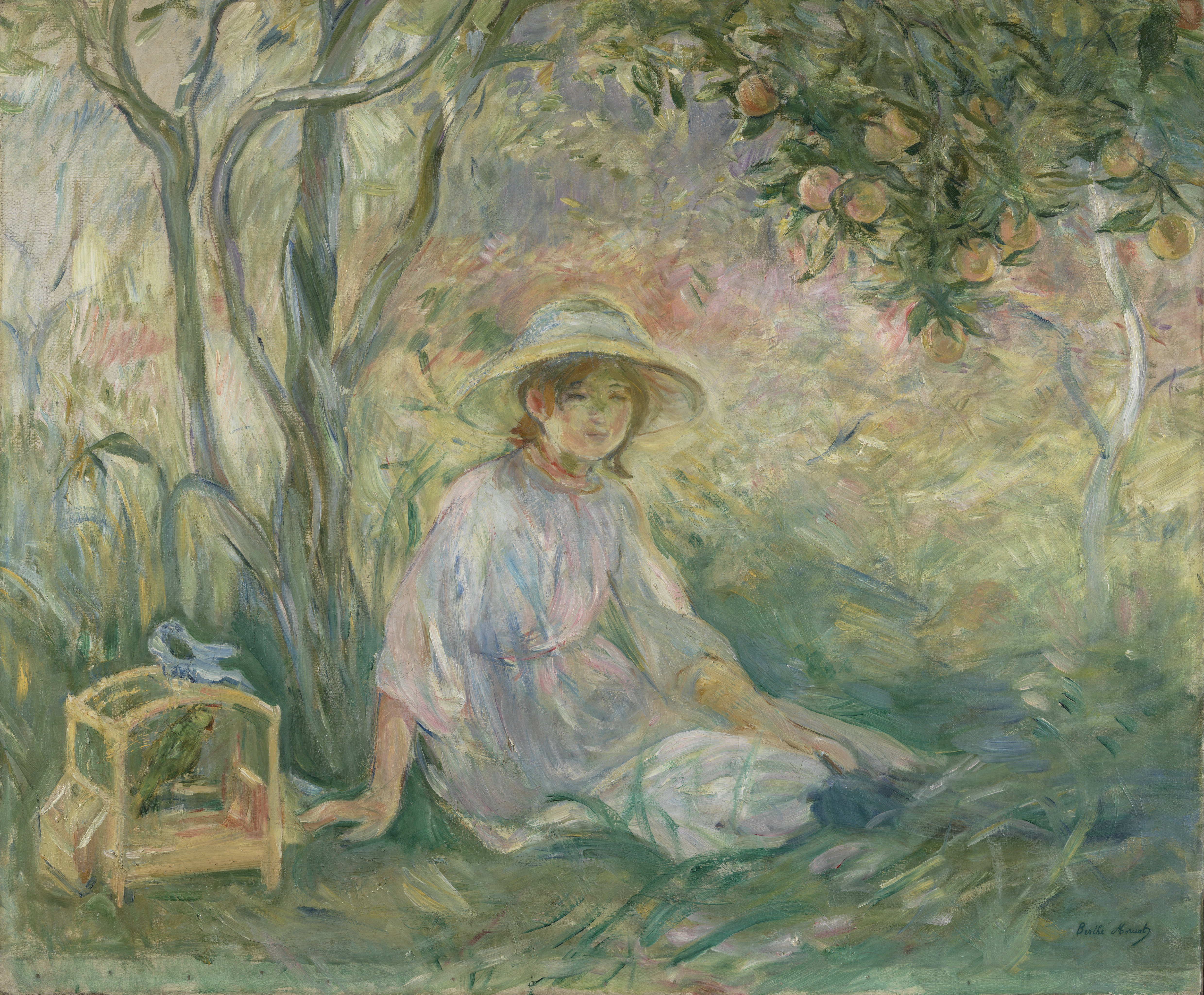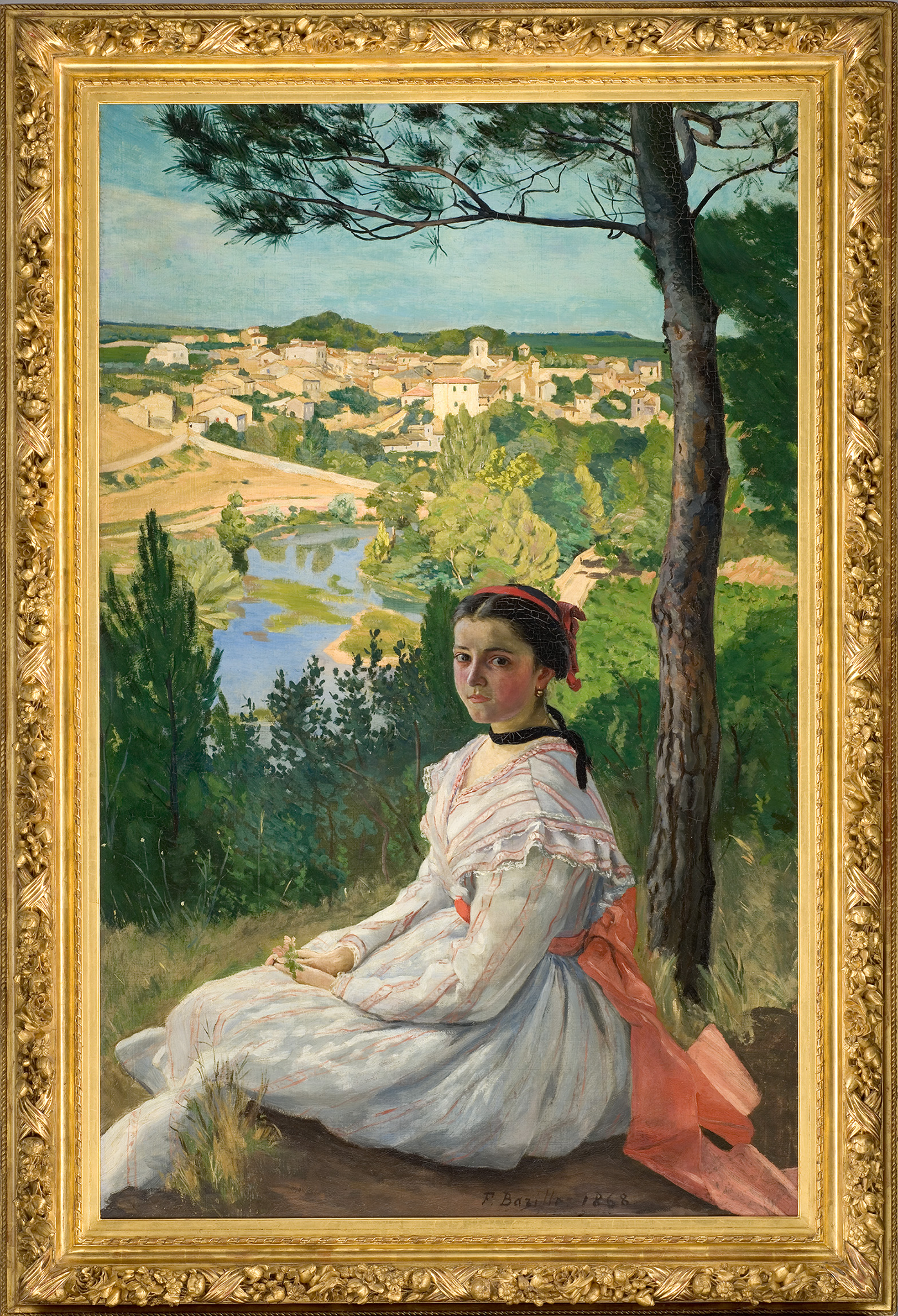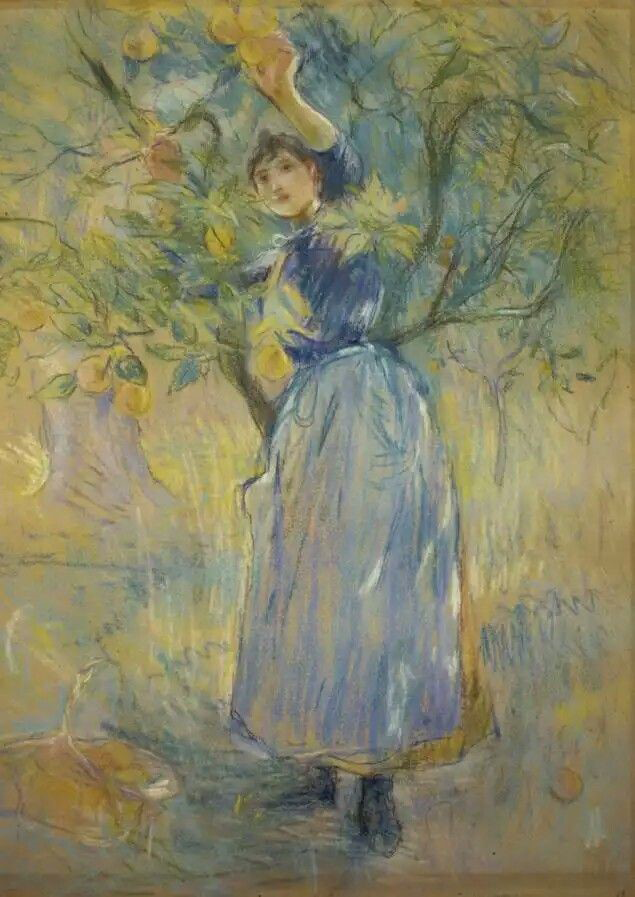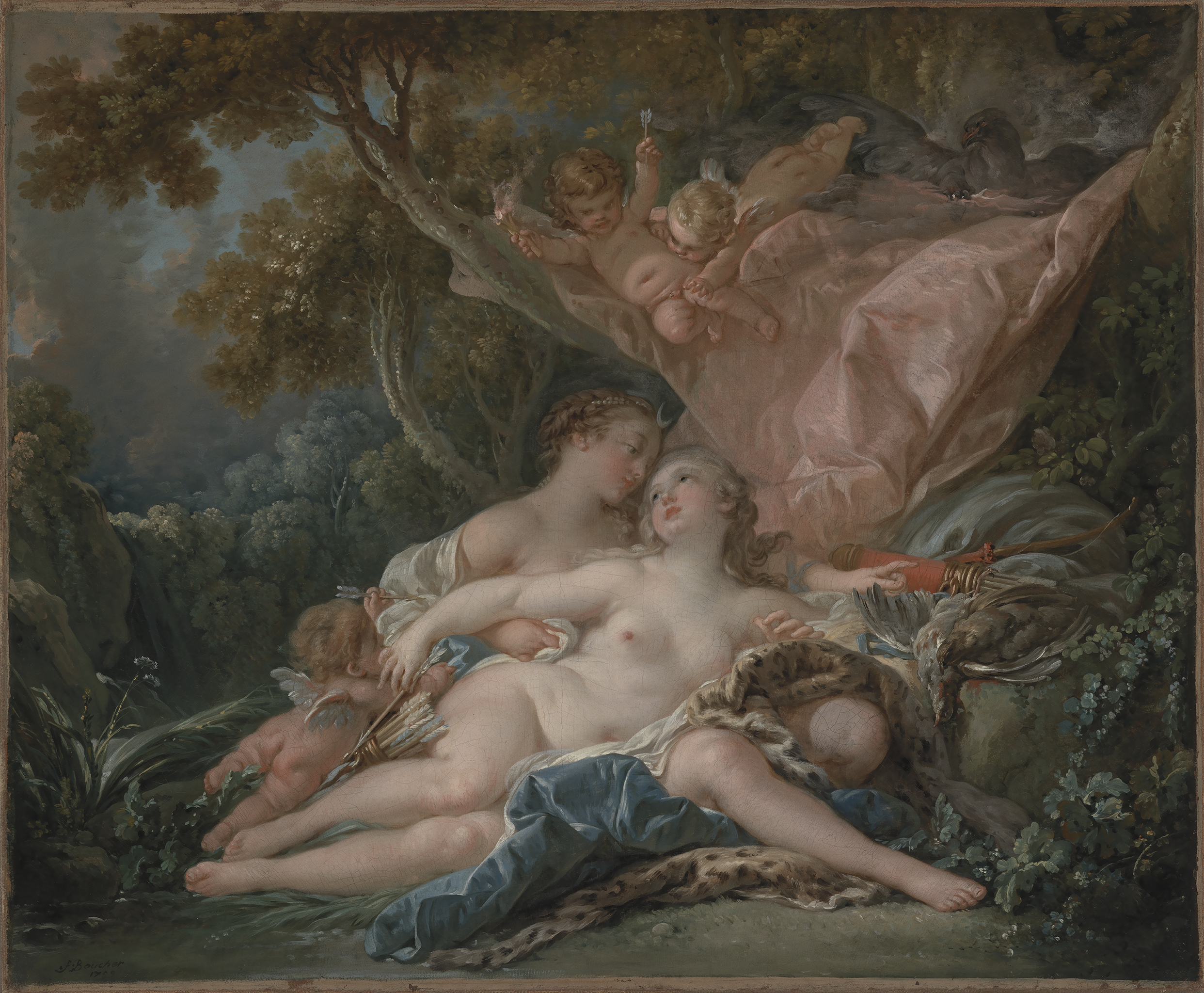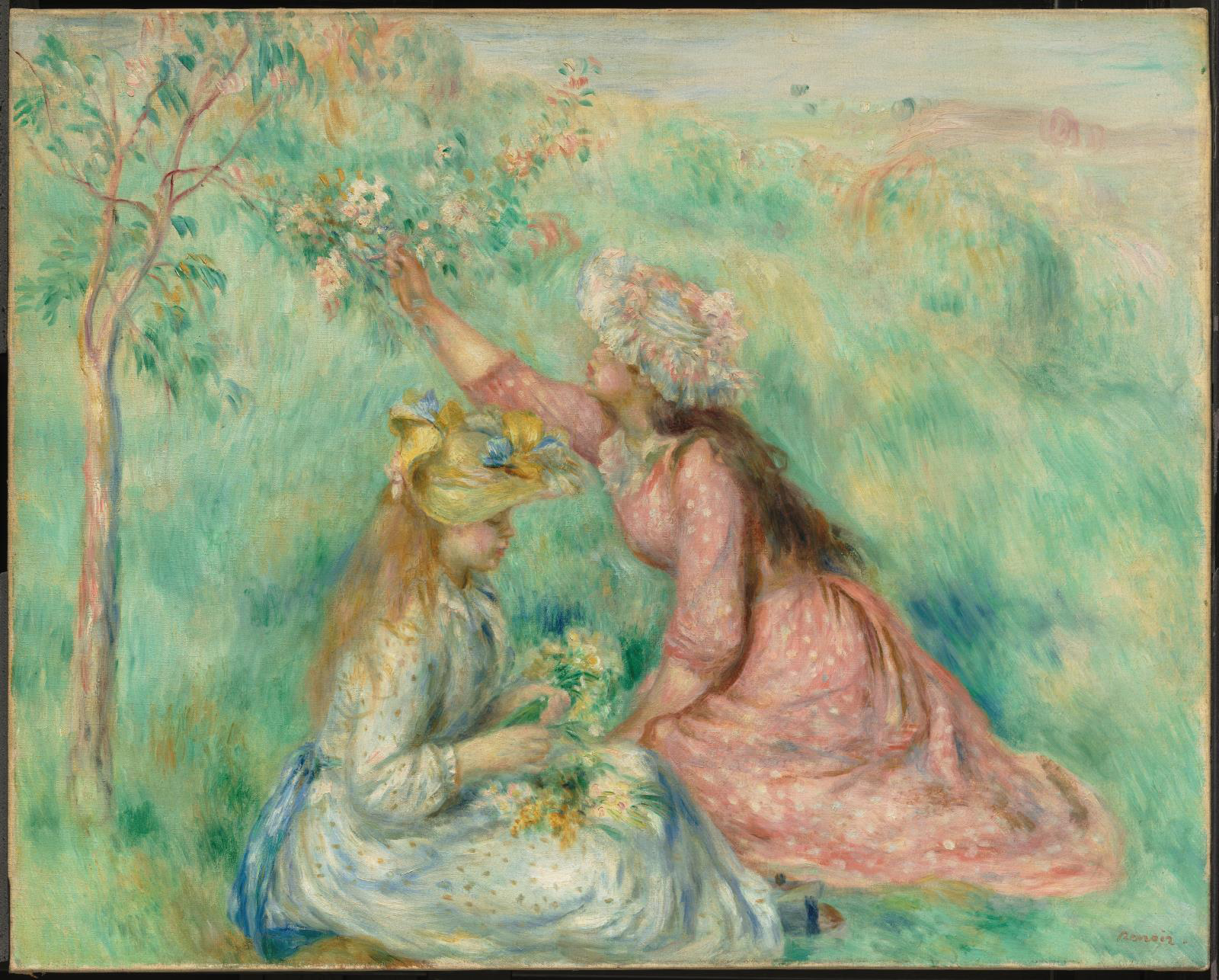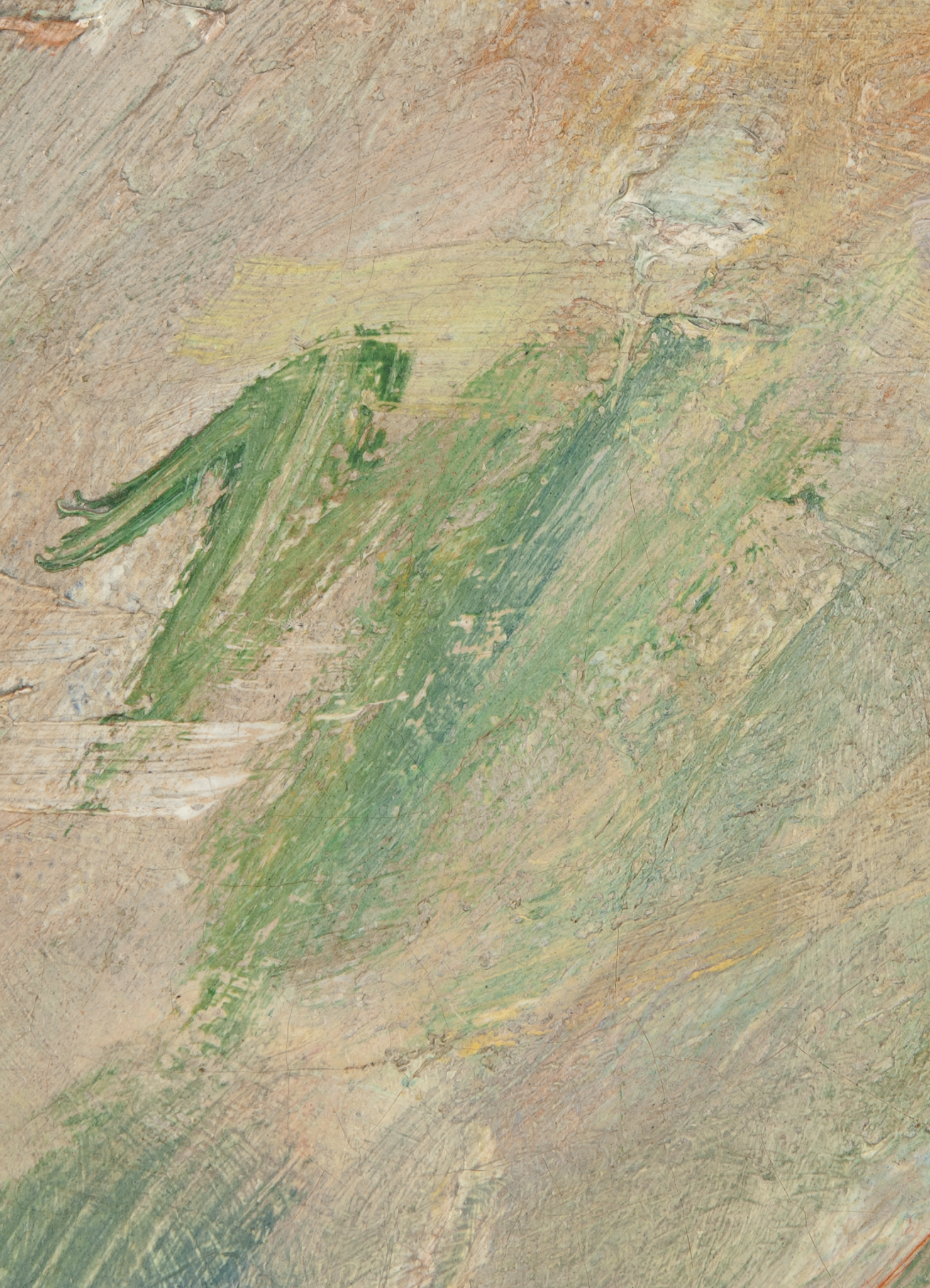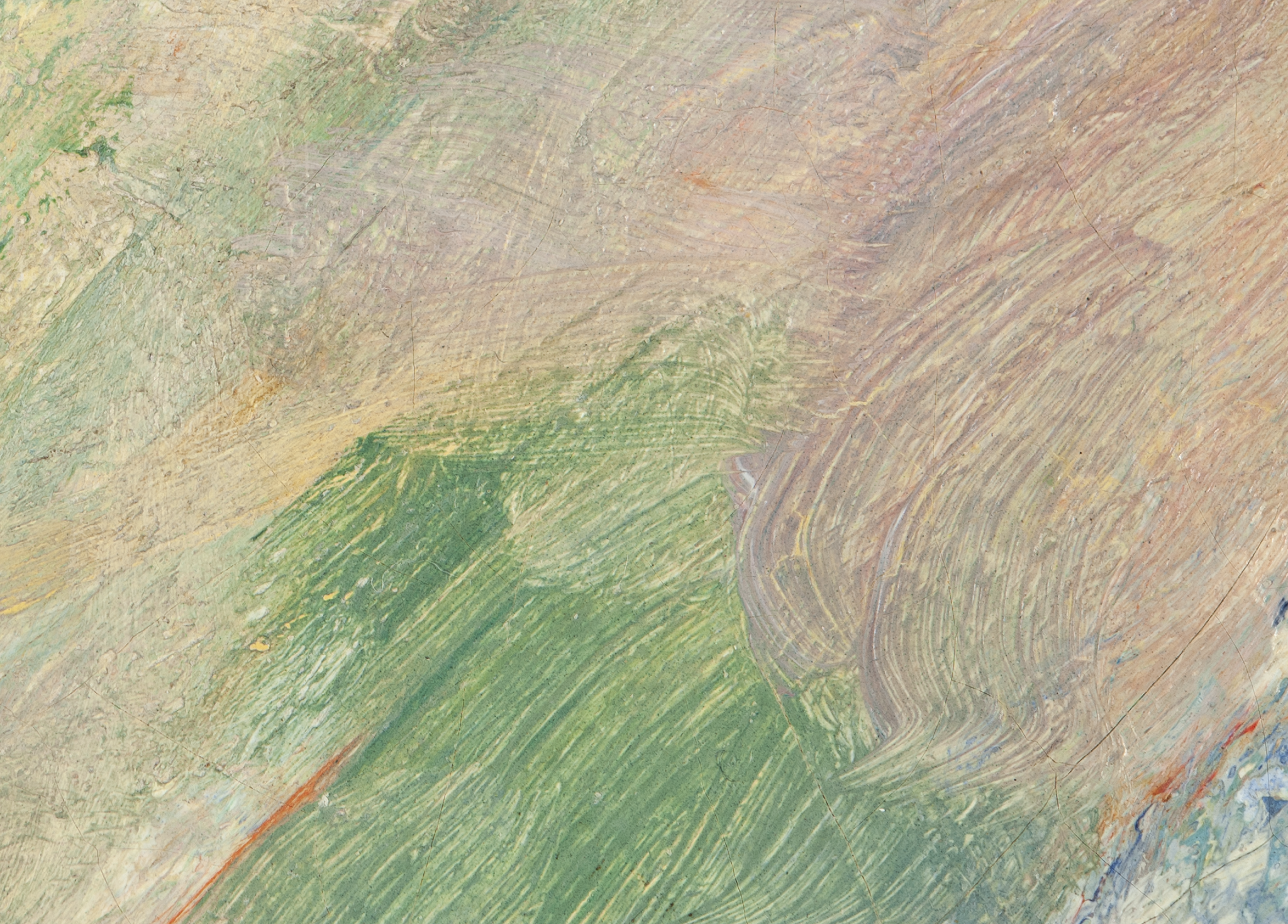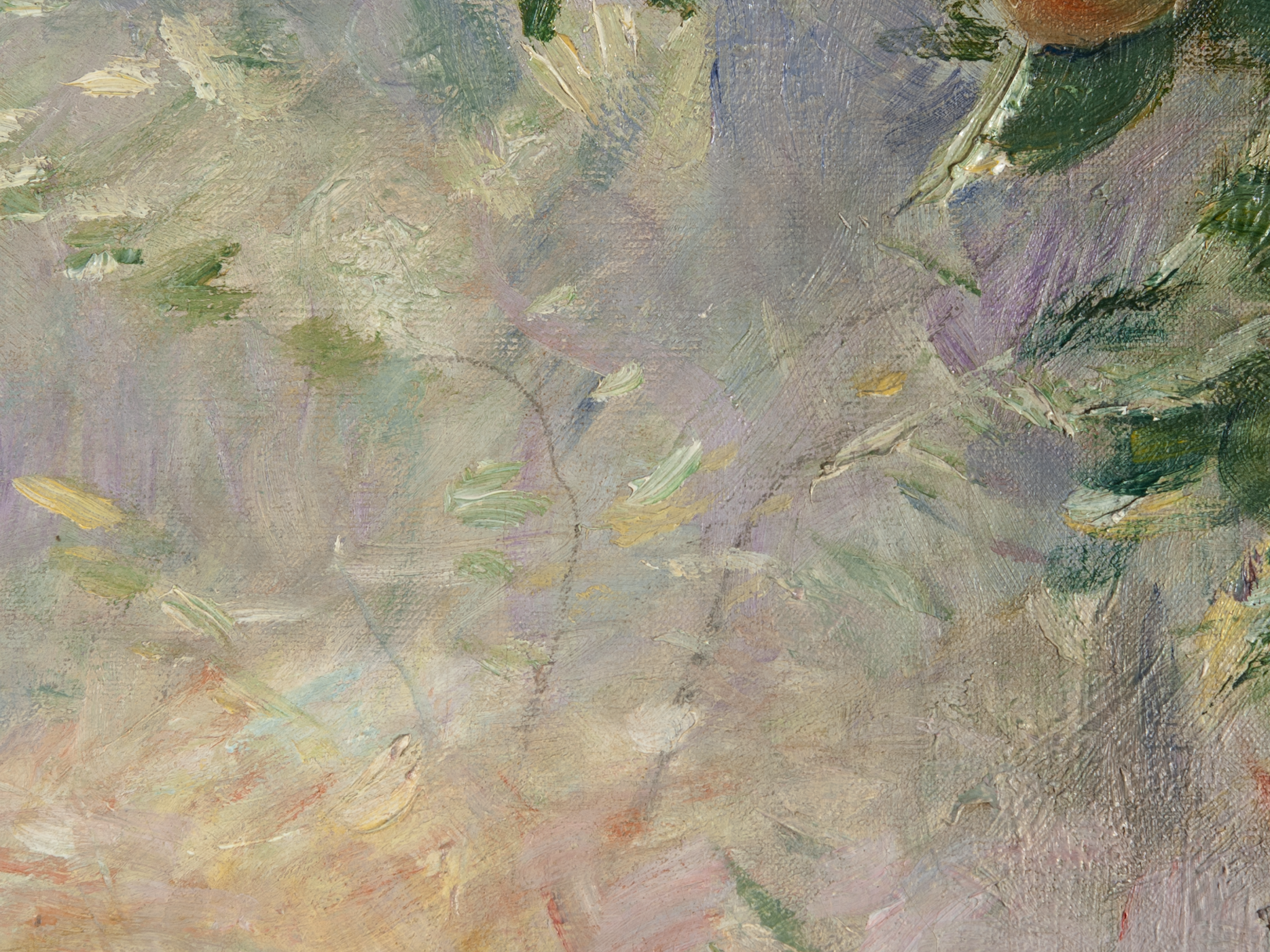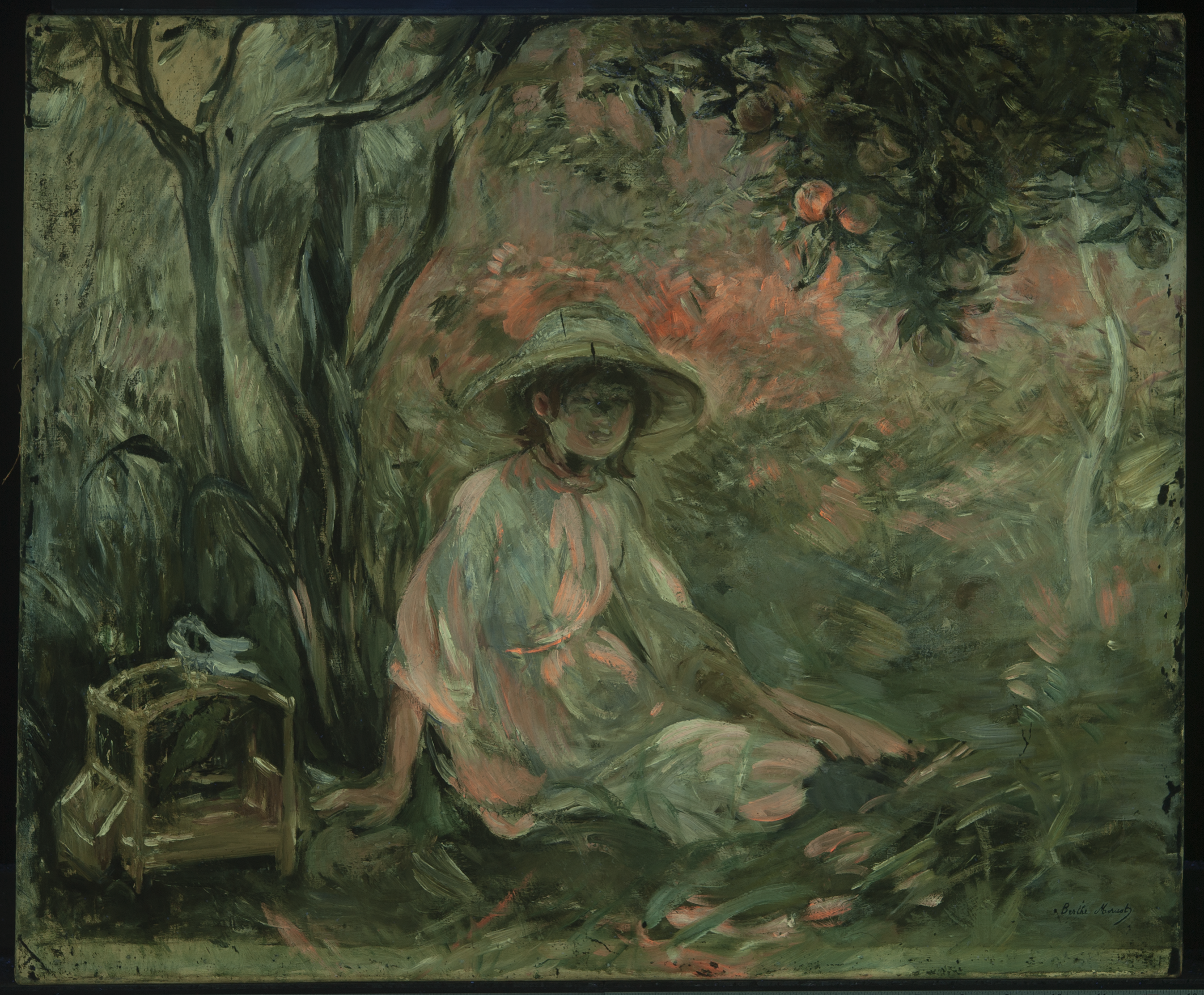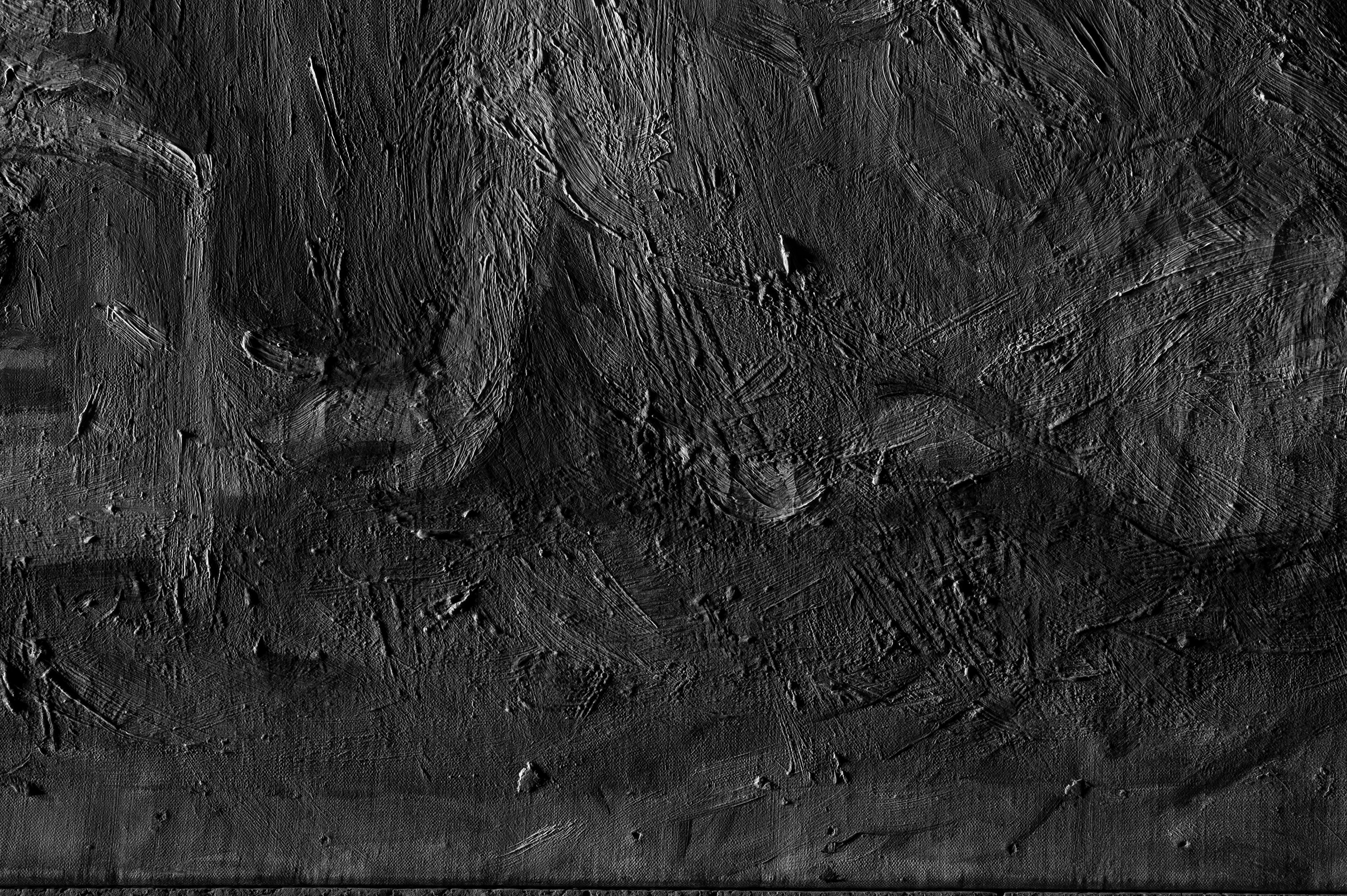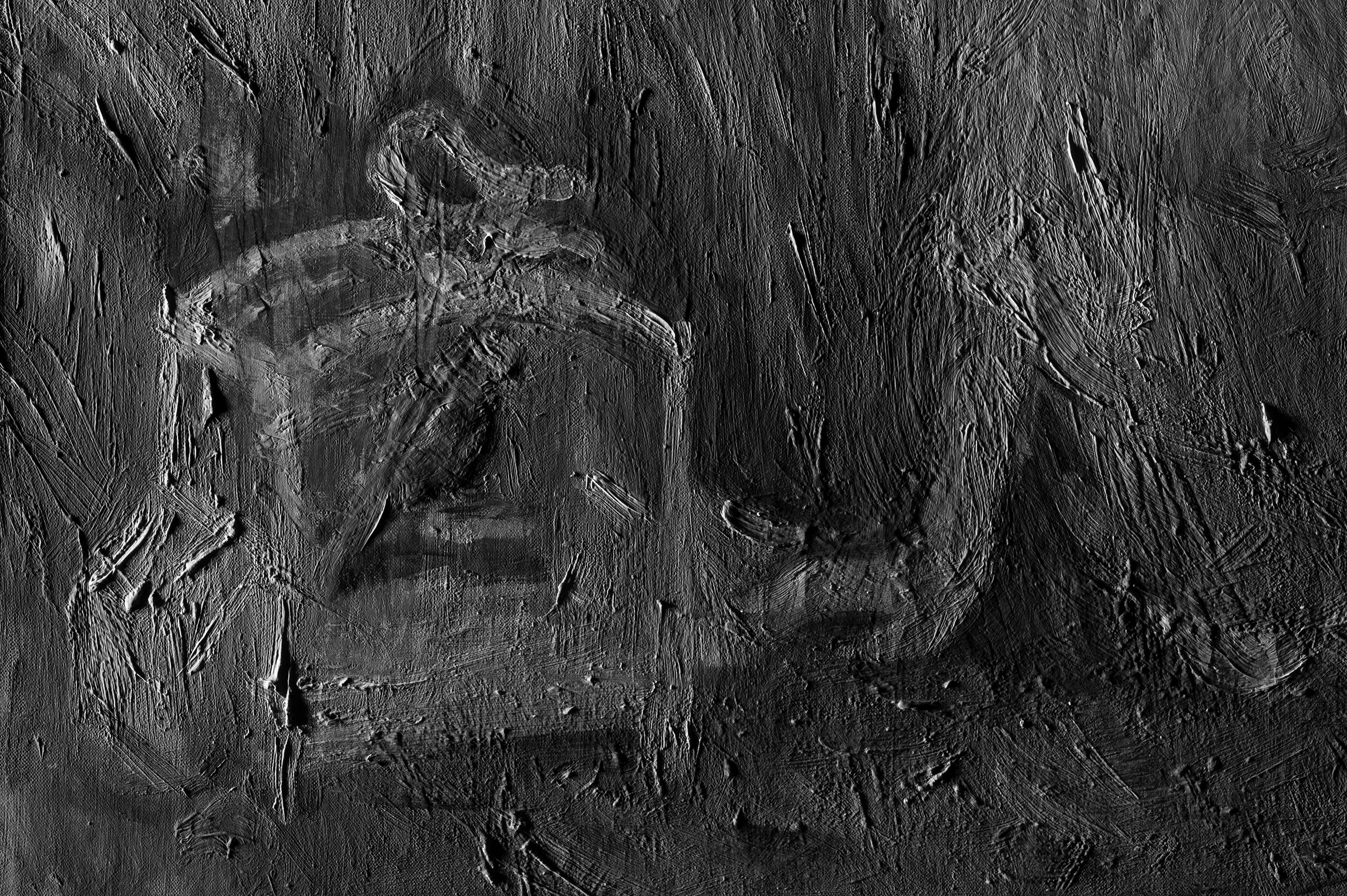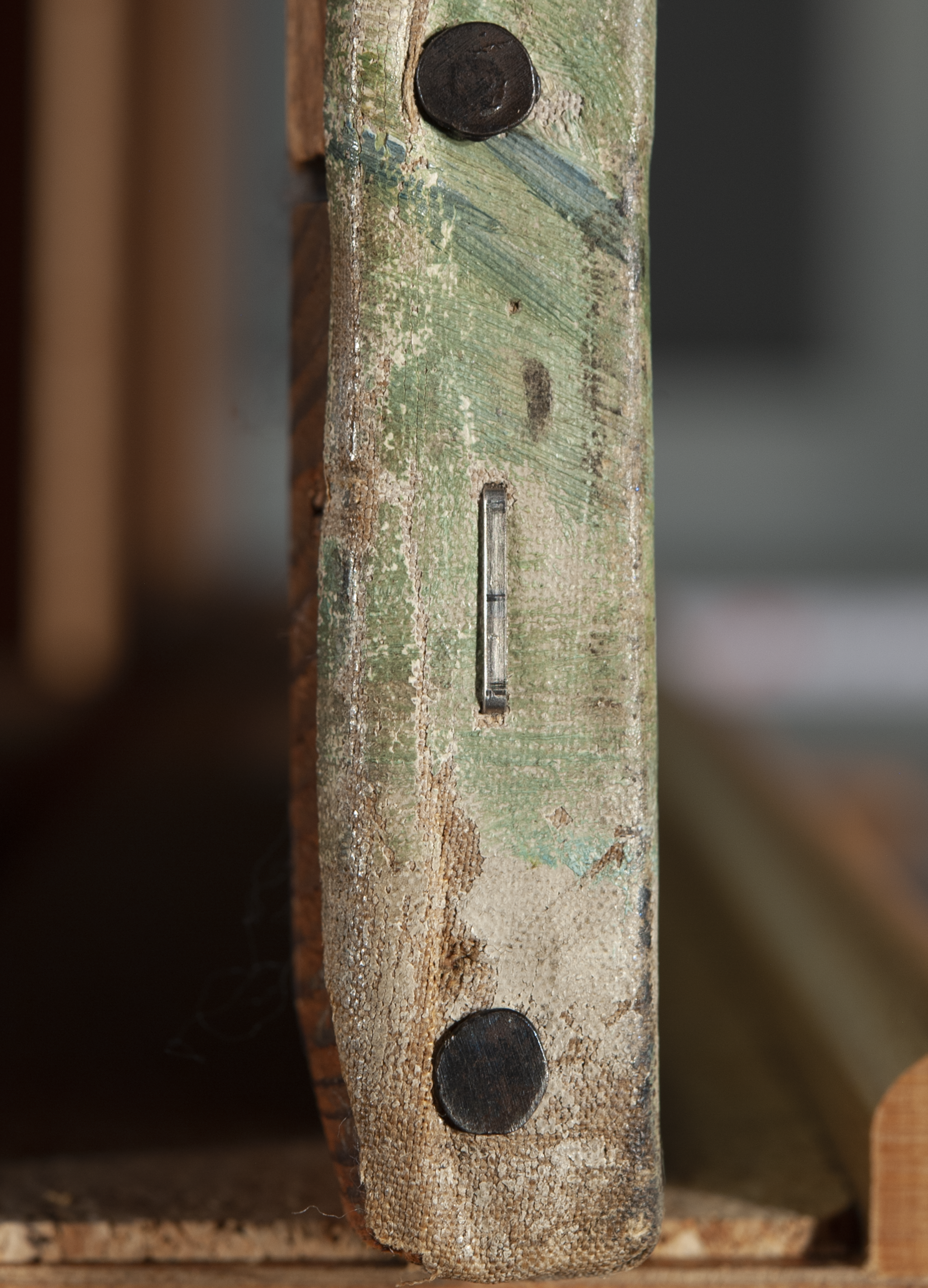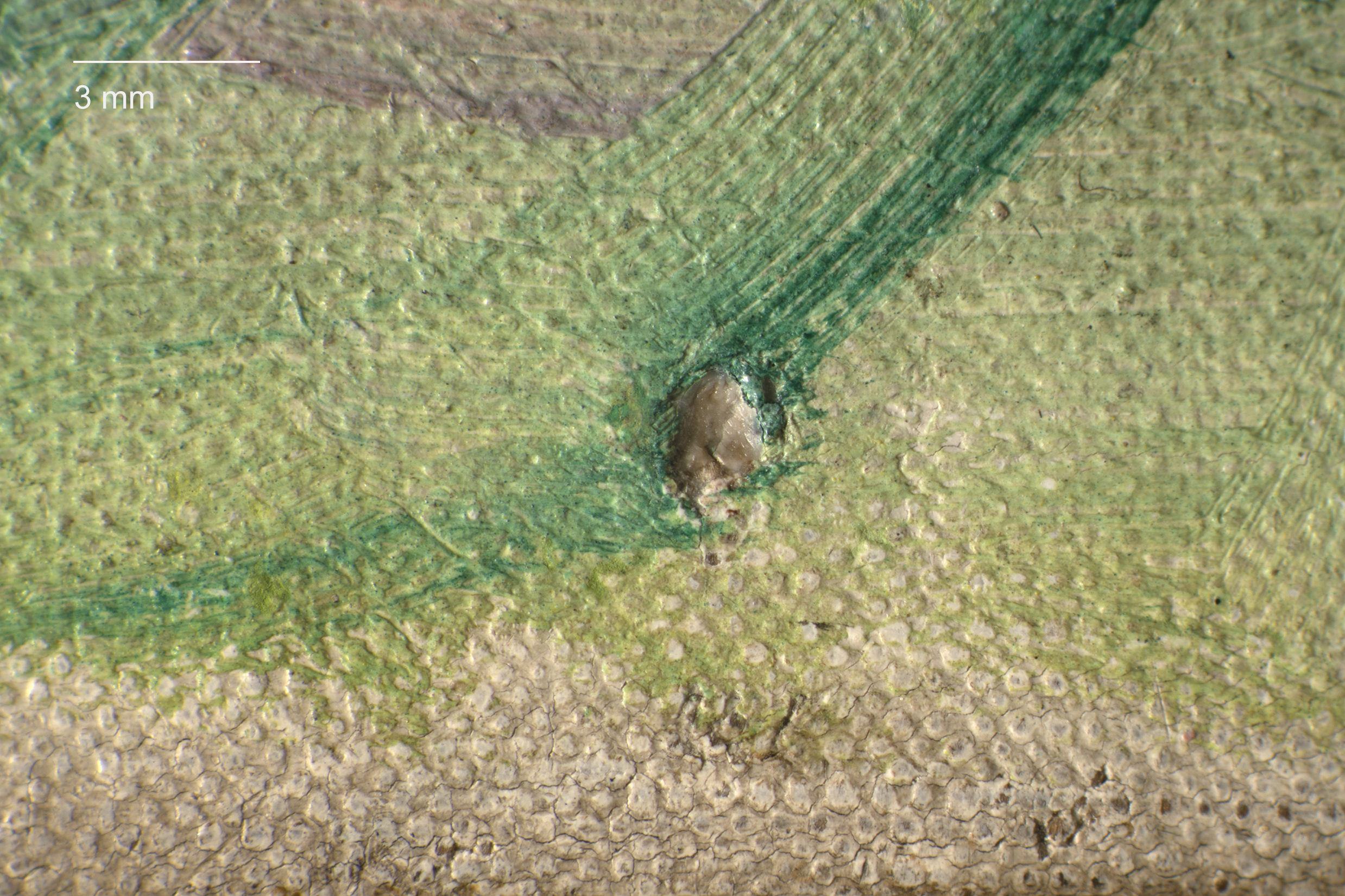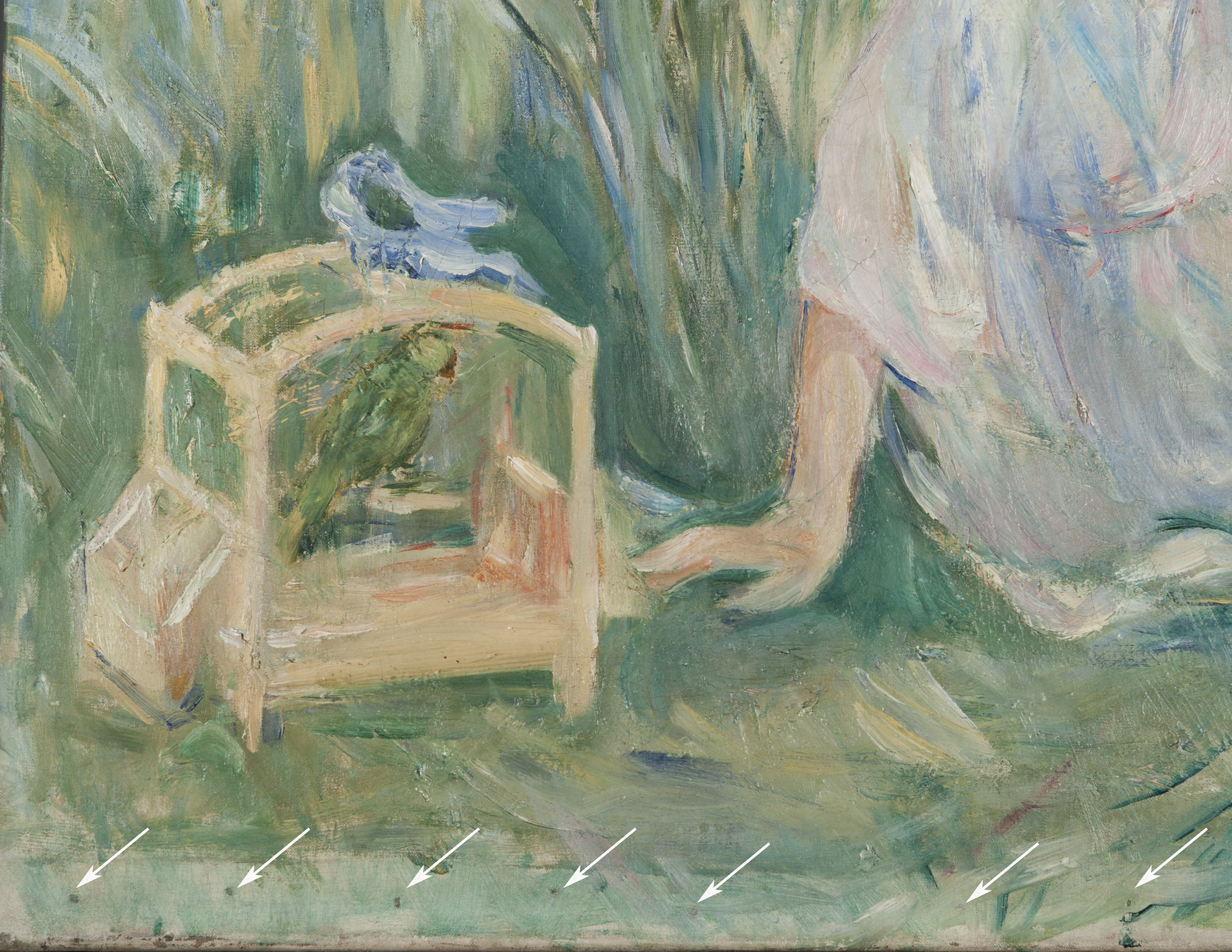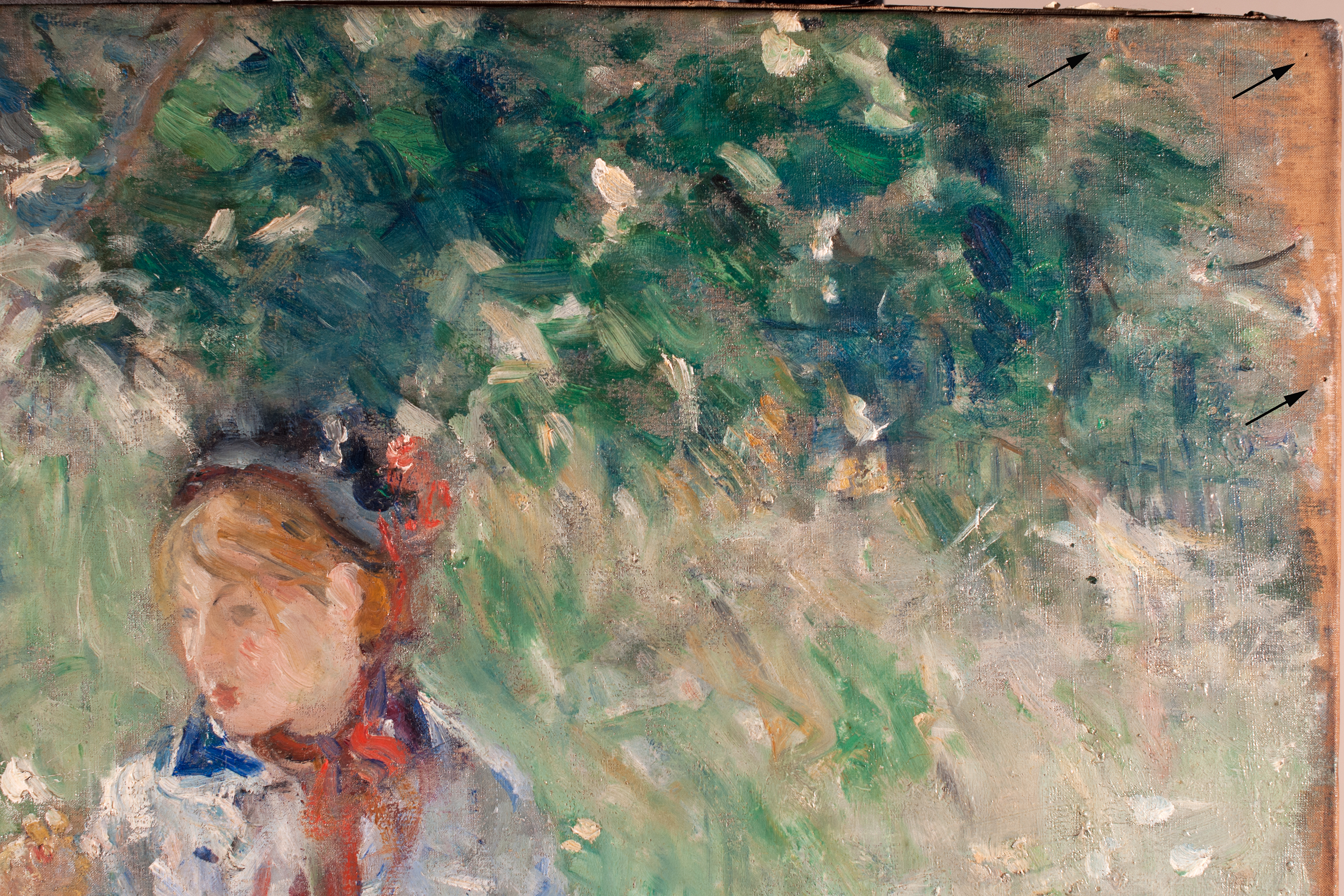 Resize view
Berthe Morisot, Under the Orange Tree, 1889
Download PDF Share

doi: 10.37764/78973.5.636

| | |
| --- | --- |
| Artist | Berthe Morisot, French, 1841–1895 |
| Title | Under the Orange Tree |
| Object Date | 1889 |
| Alternate and Variant Titles | Sous l'oranger |
| Medium | Oil on canvas |
| Dimensions (Unframed) | 21 1/2 x 25 7/8 in. (54.6 x 65.7 cm) |
| Credit Line | The Nelson-Atkins Museum of Art. Gift of Henry W. and Marion H. Bloch, 2015.13.15 |
Catalogue Entry

Citation


Chicago:

Danielle Hampton Cullen, "Berthe Morisot, Under the Orange Tree, 1889," catalogue entry in Aimee Marcereau DeGalan, ed., French Paintings, 1600–1945: The Collections of the Nelson-Atkins Museum of Art (Kansas City: The Nelson-Atkins Museum of Art, 2021), https://doi.org/10.37764/78973.5.636.5407.

MLA:

Hampton Cullen, Danielle. "Berthe Morisot, Under the Orange Tree, 1889," catalogue entry. French Paintings, 1600–1945: The Collections of the Nelson-Atkins Museum of Art, edited by Aimee Marcereau DeGalan, The Nelson-Atkins Museum of Art, 2021. doi: 10.37764/10.37764/78973.5.636.5407
Berthe Morisot's paintings of women and children outdoors in the 1880s and early 1890s are central to her body of work and are often considered some of the most radical examples of portraiture in the second half of the nineteenth century. Like her fellow Impressionist Mary Cassatt (American, 1844–1926), Morisot was born into a society that often minimized the contributions of women to the professional art world. Moreover, their choice in subject matter—women and children in their daily activities—was considered a minor, particularly feminine genre.1The private sphere of the female is discussed in the literature of Griselda Pollock and Linda Nochlin. See Linda Nochlin, "Morisot's Wet Nurse: The Construction of Work and Leisure in Impressionist Painting," in Perspectives on Morisot (New York: Hudson Hills Press, 1990), 231–43; and Griselda Pollock, "Modernity and the Spaces of Femininity," in Vision and Difference: Femininity, Feminism, and Histories of Art (London: Routledge, 1988), 50–90. For recent scholarship on Morisot's "modern femininity," see Sylvie Patry, "Berthe Morisot: Simulating Ambiguities," in Cindy Kang et al., Berthe Morisot: Woman Impressionist, exh. cat. (New York: Rizzoli Electa, 2018), 15–51. Indeed, as critic Théodore Duret wrote, Morisot "constantly found that her status as a woman overshadowed her artistry… . She knew she was the equal of any painter and quietly suffered from being treated as an amateur."2"Elle voyait constamment sa position de femme du monde voiler sa qualite d'artiste… . elle se savait l'egale de n'importe quel autre et souffrait secretement d'etre traitee en amateur." Théodore Duret, Histoire des peintres impressionnistes: Pissarro, Claude Monet, Sisley, Renoir, Berthe Morisot, Guillaumin (Paris: Floury, 1906), 165. Morisot herself wrote, "I do not think any man would ever treat a woman as his equal, and it is all I ask because I know my own worth."3Notebook of Berthe Morisot, 1890, Musée Marmottan Monet, Paris, p. 34. Cited and translated in Alain Clairet, Delphine Montalant, and Yves Rouart, Berthe Morisot, 1841–1895: Catalogue raisonné de l'œuvre peint (Paris: CÉRA-nrs éditions, 1997), 50.
Beginning in the 1880s, Morisot began to spend more time in the French countryside with her husband, Eugène Manet (the brother of artist Edouard Manet, 1832–1883), and their daughter, Julie. This change in environment led to her bourgeoning interest in depicting figures in nature. Increasingly, she presented women and children in the outdoors rather than in domestic interiors.4While images of women and children outdoors appeared in her oeuvre as early as the 1860s, these figures, placed on balconies or verandas, often expressed the limitations of women in the public sphere. See, for example, On the Balcony, 1871/1872, Art Institute of Chicago. For more on the limitations of women in the public sphere, see Pollock, "Modernity and the Spaces of Femininity." For Morisot, the outdoor setting provided a reprieve from the artistic prejudices placed upon her sex; she used it to appropriate and ultimately update images of women and children, synthesizing the traditional motifs and bold techniques of her Impressionist colleagues Claude Monet (1840–1926), Pierre-Auguste Renoir (1841–1919), and Edgar Degas (1834–1917).5Morisot exhibited alongside her colleagues at seven of the eight Impressionist exhibitions from 1874 to 1886. For more information on her entries in these exhibitions, see Anne Higonnet, Berthe Morisot: A Biography (New York: Harper & Row, 1990). Despite the perceived "feminine" limitations of her artistic practice, she became renowned by her contemporaries for the masterful way she rendered her subjects in paint on canvas.6Morisot's critical reception during her lifetime has been the subject of much scholarship. For more information on the implications surrounding her reception, see Hugues Wilhelm, "La Fortune critique de Berthe Morisot: Des Impressionistes a l'exposition posthume," in Sylvie Patry et al., Berthe Morisot, 1841–1895, exh. cat. (Paris: Réunion des Musées Nationaux, 2002), 63–87; and Jean-Dominque Rey, "Writers in Morisot's Circle," in Jean-Dominique Rey and Sylvie Patry, Berthe Morisot (Paris: Flammarion, 2010), 175–91. Despite the limitations imposed on Morisot as a female artist, her male contemporaries greatly admired her. Her work was collected by Manet, Degas, Monet, and Camille Pissarro, and by several noted Impressionist collectors, including Georges de Bellio, Paul Gallimard, and Auguste Pellerin. For more on this subject, see Hugues Wilhelm, "Berthe Morisot in the Collections of her Impressionist Friends," in Berthe Morisot: Regards Pluriels, Plural Vision, exh. cat. (Milan: Mazzotta, 2006), 69–117. "No one represents Impressionism with more refined talent or with more authority than Berthe Morisot," wrote French critic Gustave Geffroy in his review of the Impressionist exhibition of 1881.7Gustave Geffroy, "L'Exposition des artistes indépendants," La Justice (April 19, 1881). Cited and translated in Ruth Berson, The New Painting: Impressionism, 1874–1886: Documentation, Exhibited Works, new ed. (San Francisco: Fine Arts Museums of San Francisco, 1996), 1:343. Works such as Under the Orange Tree, painted in 1889, highlight perfectly her ability to integrate the "feminine" into modern art.
Under the Orange Tree depicts the artist's favorite subject, her daughter, Julie Manet (1878–1966), posed in the garden of their country villa in Cimiez.8Julie's likeness appears in a large number of Morisot's paintings. For more information on her artistic production at this time, see Higonnet, Berthe Morisot, 159–60, 189–91. "We are a little in the mountains, on the site of the Old Roman city … it is very Italian, very rural, and in my opinion delightful," Morisot wrote to her sister, Edma, upon their arrival in Cimiez in the fall of 1888. "We have a large garden, more precisely an orchard, with many orange trees; their fruit will be yellow next month."9Denis Rouart, ed., The Correspondence of Berthe Morisot with Her Family and Her Friends, trans. Betty W. Hubbard (New York: E. Weyhem, 1957), 143. Perhaps prompted by Frédéric Bazille's (1841–1870) "figures en plein air," women and children outdoors became a prominent part of Morisot's artistic oeuvre in the late 1880s and early 1890s.10Morisot was also made aware of plein-air painting through her early lessons with French landscape artist Jean-Baptiste-Camille Corot (1796–1875). Indeed, Morisot's Under the Orange Tree brings to mind Bazille's View of the Village (Fig. 1), a work she had openly admired almost a decade before. She described it in a letter to Edma dated May 5, 1896: "The tall Bazille has painted something that I find very good. It is a little girl in a light dress seated in the shade of the tree, with a glimpse of the village in the background. There is much light and sun in it. He has tried to do what we have so often attempted—a figure in the outdoor light—and this time he seems to have been successful."11Rouart, The Correspondence of Berthe Morisot, 32. Bazille's sitter is dressed in a simple white dress, sitting upright in the foreground, her hands placed delicately in her lap, surrounded by rich vegetation.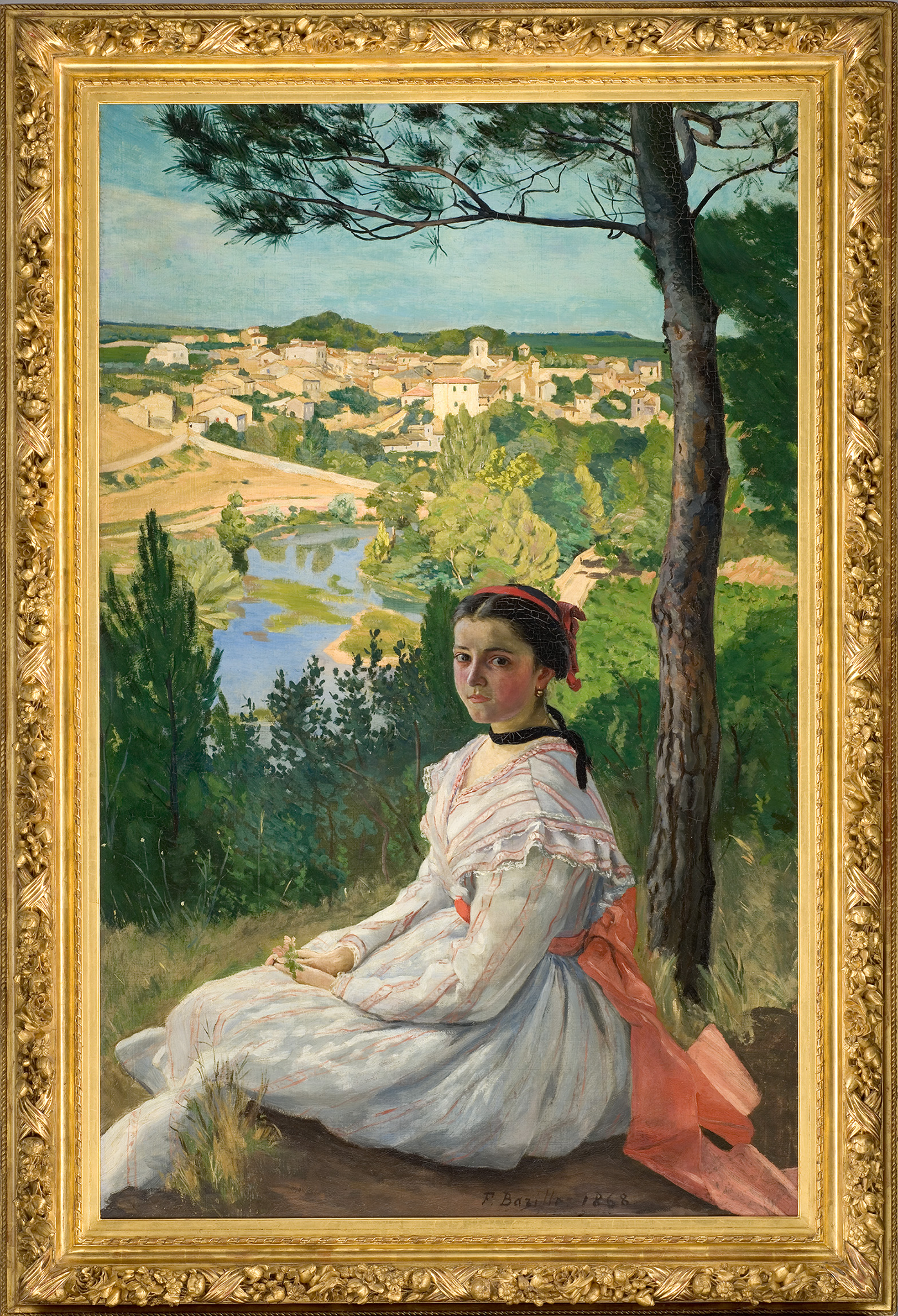 While Morisot's sitter is reminiscent of Bazille's young woman, Morisot's way of capturing the spirit of her young model sets the artist apart from her male colleague. Morisot's frenzied background and Julie's casual pose were daring departures from the more formal mode of plein-airen plein air (adjective: plein-air): French for "outdoors." The term is used to describe the act of painting quickly outside rather than in a studio. portraiture demonstrated by Bazille, illustrating the aesthetic for which she is best known. Morisot's increasingly sketchy handling reflects her interest in deconstructing an otherwise traditional subject and promotes her interest in dissolving the distinction between the sitter and her natural surroundings. Indeed, her focus on brushwork in paintings such as this seemed to renew the subject, especially when seen in comparison with Bazille's more traditional View of the Village. Art critic Georges Rivière noted Morisot's tendency to deconstruct her subject in his 1877 review of the third Impressionist exhibition: "Her watercolors, her pastels, her paintings all show … a light touch and unpretentious allure… . Mademoiselle Berthe Morisot succeeds in capturing fleeting notes on her canvases with a delicacy, spirit, and skill that ensure her a prominent place at the center of the Impressionist Group."12Georges Rivière, "Les Intransigeants et les impressionnistes: Souvenirs du salon de 1877," L'Artiste 2, no. 49 (November 1, 1877): 300. Cited and translated in Jean-Dominique Rey, Berthe Morisot, 71.
While Morisot's and Bazille's canvases share the similar subject of a young girl posed in an outdoor setting, their approaches are completely different. Morisot did not concern herself with the competing view of the countryside, but rather with the intimate, particularly feminine space of the garden. She placed Julie amid tall grasses in an overgrown corner of their private enclosure. Morisot's use of her daughter and family acquaintances in her paintings at this time also denotes the level of intimacy with which she approached this new avenue of her production; works including Under the Orange Tree are among her most endearing. As Paul Girard noted in 1896, she gave "particularly to children and young women, a grace to which she alone knows the secret."13Paul Girard, "Chronique du jour," Le Charivari 65 (March 13, 1896): unpaginated. Cited and translated in Kang et al., Berthe Morisot, 97.
Captivated by the Cimiez villa's orchard, Morisot began to introduce fruit-bearing trees into her outdoor paintings. "I am doing aloes, orange trees, olive trees; in short, a whole exotic vegetation that is quite difficult to draw," she wrote to her sister in 1889.14Rouart, The Correspondence of Berthe Morisot, 146. "I should like to capture some of the charming effect of the surrounding vegetation. I am working myself to death trying to give the effect of the orange trees. I want it to be as delicate as it is in the Botticelli I saw in Florence." She completed a series of women picking oranges in 1889, including Picking Oranges (Fig. 2). As in the Nelson-Atkins Under the Orange Tree, Morisot placed her figure in the midst of yellow-green trees with shining, golden-orange fruit.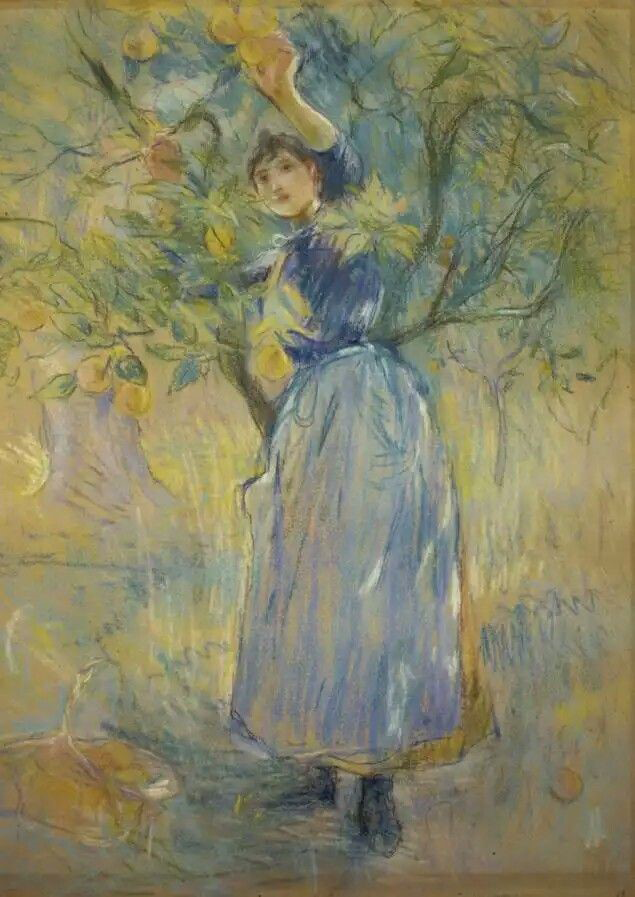 Fruit picking, a motif favored by many of her contemporaries, was also the subject of her Cherry Tree series, painted in 1891, although she never endowed the activity with overtly symbolic meaning, as had Mary Cassatt and Camille Pissarro.15For example: Mary Cassatt, Young Woman Picking the Fruits of Knowledge, the central panel of a mural for the Woman's Building in Chicago in 1893 (current location unknown); and Camille Pissarro, Apple Picking, 1881–1886 (Ohara Museum of Art, Japan). As noted, the subject of women picking fruit would be taken up again by the artist in 1891 when she completed a series of images of women at cherry trees. For more information on this series, see Patry et. al., Berthe Morisot, 1841–1895, 384–88. The trope of women and fruit is a longstanding one in the history of art, as, for example, in Sandro Botticelli's La Primavera (1482; Uffizi Gallery, Florence), a work Morisot greatly admired during her stay in Florence in 1881 and later wrote about to her sister in 1889.16Rouart, The Correspondence of Berthe Morisot, 146. Yet, while her images of women and fruit bear a certain likeness to this defining Renaissance painting, Morisot does little to construct an allegorical relationship between figure and nature. Her work is far more concerned with her own modern sensibilities, her brushwork, and the relationship between the sitter and her environment.
Praised for her delicate handling, Morisot is often associated with eighteenth-century French Rococo artists and styles.17For a recent assessment of Morisot's Rococo revival, see Nicole R. Myers, "Extreme Novelty or Things of the Past: Morisot and the Modern Woman," in Kang et al., Berthe Morisot, 77–113. Commenting on the Fifth Impressionist Exhibition in 1880, contemporary critic Philippe Burty wrote: "Morisot handles her brush and palette with a truly astonishing delicacy. Not since the eighteenth century, not since Fragonard, have we seen comparable intellectual audacity and clarity of tone."18Phillippe Burty, "Exposition des ɶuvres des artistes indépendants," La République française (April 10, 1880): 2, cited and translated in Berson, The New Painting: Impressionism, 1:269. Morisot claimed to be the great-grandniece of the artist Jean-Honoré Fragonard (1732–1806), and perhaps partly for that reason she had a great appreciation for eighteenth-century French artists, including François Boucher (1703–1770), whose works she copied on more than one occasion.19For example, Morisot, Apollo Revealing His Divinity before the Shepherdess Iseé, 1892 (private collection, France) and Morisot, Venus at the Forge of Vulcan, 1884 (private collection, France). Clairet, Montalant, and Rouart, Berthe Morisot, no. 145, p. 185; no. 324, p. 272. Morisot's Under the Orange Tree is reminiscent of the frivolity of Fragonard's fêtes galantesfêtes galantes: French for "gallant parties." Paintings that feature elite groups of upper-class men and women shown in conversation, role playing, dancing, or flirting outdoors. and recalls the vivacious color of Boucher's Jupiter in the Guise of Diana and the Nymph Calisto (Fig. 3), among other works. Around the time that Morisot demonstrated this kinship with eighteenth-century art, she was also in frequent contact with Renoir, who visited her on several occasions at Cimiez and shared her love of the French Rococo. Under the Orange Tree bears some similarity to works such as Renoir's Girls Picking Flowers in a Meadow (Fig. 4), composed of the same soft, iridescent colors that Morisot admired in the work of eighteenth-century French masters. Nonetheless, Morisot's unique, sketch-like style added something entirely new to their shared source of inspiration.